Topdon vs Autel:which is your best choose?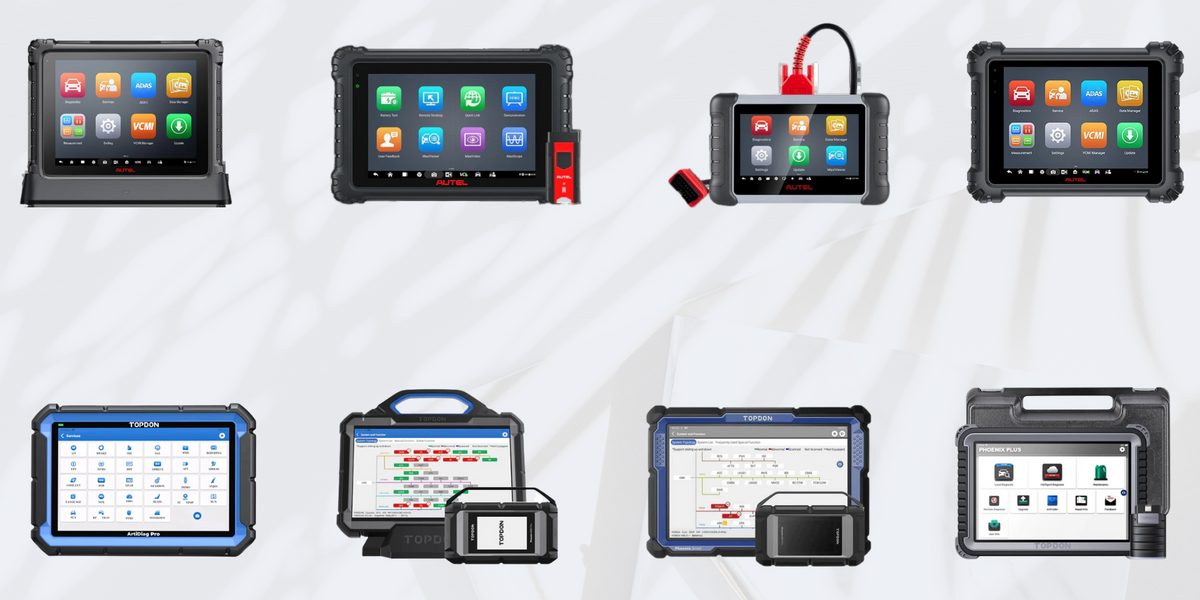 When choosing between Autel and Topdon automotive diagnostic brands, car owners often face difficulty in making a decision. This blog will compare the best-selling diagnostic instruments from both brands to help you make an informed choice.
Simliar Topdon vs Autel scanner tool compared
1.Topdon artidiag 800BT vs Autel MK808BT Pro diagnostic scanner
Price & Hardware comparison
Product
Topdon Artidiag 800BT
Autel MaxiCOM MK808BT Pro
Product image
 

 

Price

£399.00
£357.00
Hardware comparison

RAM/ROM

2G/32G
4G/64G

Battery capacity

3100mAh
5000mAh
Android version
Android 10
Android 11
Function comparison

Bi-directional control

/
√
When comparing the Topdon Artidiag 800BT and Autel MK808BT Pro, it becomes evident that the Autel MK808BT Pro offers superior performance in terms of price, hardware, functions, and services. And Autel MK808BT supports more reset services and languages.Therefore, it stands out as the better choice between the two products.
2.Topdon phoenix pro vs Autel Maxisys Elite II Pro
Product
Topdon Phoenix Pro
Autel Maxisys Elite II Pro
Product image
 

 

Price

£1999.00
£1749.00
Hardware Comparison
Android version
Android 5.1.1
Android 10.0
RAM/ROM
2G/64G
4G/128G
Function comparison
Online ECU programming
√
√
Guide functions
VM/Audi/Skoda/Seat
VW/Audi/Skoda/Seat/Man LD/Bently

Intelligent diagnostic

/
√(except component test)
When comparing Topdon Phoenix Pro and Autel Maxisys Elite II Pro, Autel Maxisys Elite II Pro stands out for its more affordable price with superior hardware and software configuration. It also has 32% faster loading speed and wider car model coverage,reset services and languages than Topdon Phoenix pro.
Autel Related diagnostic scanner recommendation
Selection reason:
Autel 808BT Pro, an entry-level scanner suitable for beginners;
Just over £300, but Autel MaxiCOM MK808BT Pro comes with a complete diagnostic service;
Newly upgraded hardware compared with MK808BT, smoother user experience;
Compared with MK808, it is more cost-effective.
Selection reason:
Autel MaxiCOM Ultra lite S suitable for large and medium-sized maintenance plant mechanic;
Intelligent diagnosis and topology diagnosis ,carried by Ultra lite ,are supported to better understand DTC locations and relationships;
Autel's flagship diagnostic product,Autel Ultra Lite with the most powerful hardware, provides the most comfortable experience;
2-year software update;
Ultra lite has the same hardware configuration as Ultra but costs half as much;
Support D-PDU/RP1210 and DoIP/CAN FD for efficient diagnosis.
Conlusion
To sum up, the price of Autel diagnostic scanner is generally more affordable than Topdon, and the functions it supports cover a wider range of models, the hardware is superior, and it has a smoother use experience. It is the best choice for individuals and machine repair shops.